Visit the Largest Aquarium in Malaysia | Aquaria KLCC
Contents
With more than 5000 land and sea creatures from across 250 species, Aquaria KLCC is a popular and educational attraction in Kuala Lumpur, Malaysia, that draws in tourists and locals alike. Indulge in a plethora of interesting details regarding marine life conversations. For those wondering what to do on their visit to Kuala Lumpur: explore Aquaria KLCC and get amazed by the biodiversity it houses.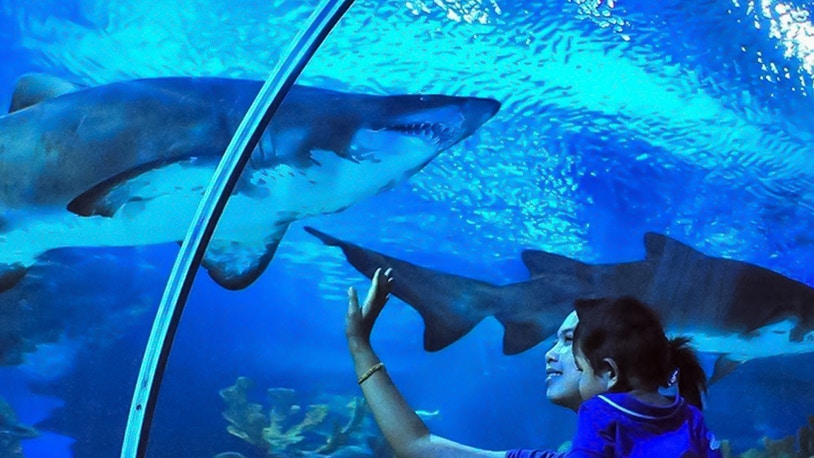 Why Visit Aquaria KLCC?
The KLCC Aquarium in Kuala Lumpur is home to the largest aquarium in Malaysia with over 5000 marine species.
Witness a range of aquatic species like seahorses, blue rays, tiger sharks, and a lot more.
Discover your way into an underwater walkway and admire the colorful sea life and its habitat.
Aquaria KLCC allows you to explore eight different exhibit zones that give you an insight into the lives of aquatic animals and their living conditions.
Make your visit to the KLCC Aquarium a fun one by indulging in numerous activities like – Sleep With Shark, Dive With Shark, feeding sessions, and more!
The star attractions at KLCC Aquarium include lethal sea snakes, blue rays, scary tiger sharks, seahorses, and more.

About Aquaria KLCC
KLCC Aquarium is an indoor marine park that unwraps the mysteries of underwater biomes. Situated just a few minutes away from the twin towers, this has undoubtedly become a favorite destination for kids and families. It offers you information about marine life and allows you to have an up-close interaction with the underwater beauties.
All the exhibits displayed here are organized, keeping in mind the theme of the aquarium - the journey of water from land to sea. The highlight here is the way it unwinds the different underwater landscapes as levels, right from the Evolution Zone and Shipwreck Zone, all the way to the Flooded Forest and Living Ocean.
Nature & Biodiversity of KLCC Aquarium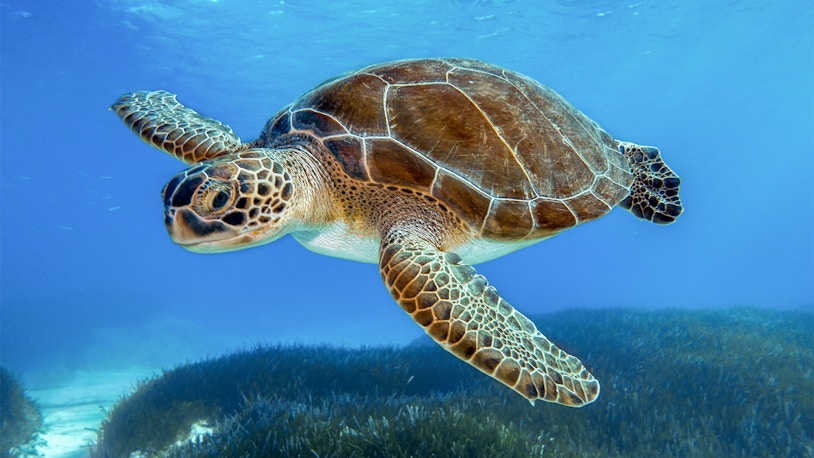 One of the most captivating forms of evolution can be found at the KLCC Aquarium in Malaysia. The space is occupied by a few astonishing exhibits like the Electric Catfish, Electric Eel, as well as the Elephant Nose Fish that protect themselves by discharging electricity.
Witness some of the most diversified forms of marine life at Aquaria KLCC. Don't forget to explore the jungle region where you get to explore unique species like the tree-bound Coatimundi, tarantulas, lizards, freshwater turtles, all of which will simply take your breath away.
What's Inside Aquaria KLCC?
With 8 astonishing aqua zones to explore, Aquaria KLCC offers a variety of aquatic animals and amphibians. Here is what you get to see.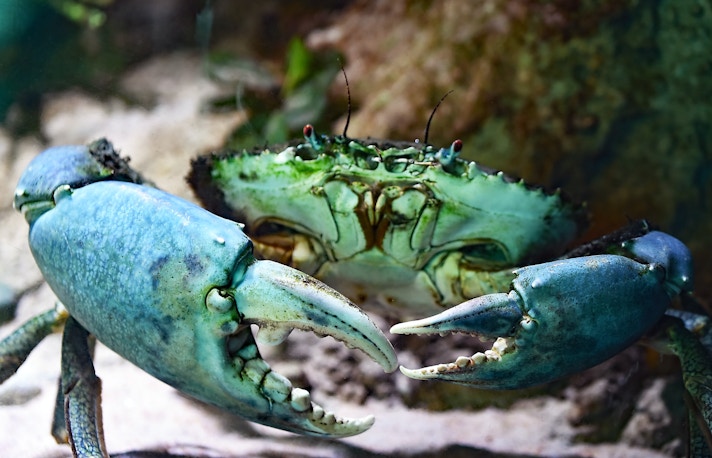 Evolution Zone
Admire aquatic species like bamboo sharks, horseshoe crabs, and more in the evolution zone. If you have kids, explore the Gene Pool that allows children to interact with aquatic species like starfishes, and clownfishes. Have a fun feeding session at 4 pm in the Piranha tank.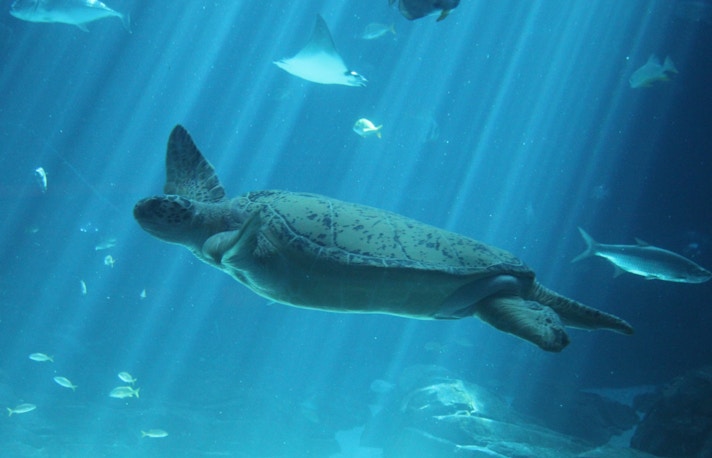 The Stream
A place where you can spot deadly creatures! One major highlight of this region is the Asian small-clawed otter and how it hunts for its prey.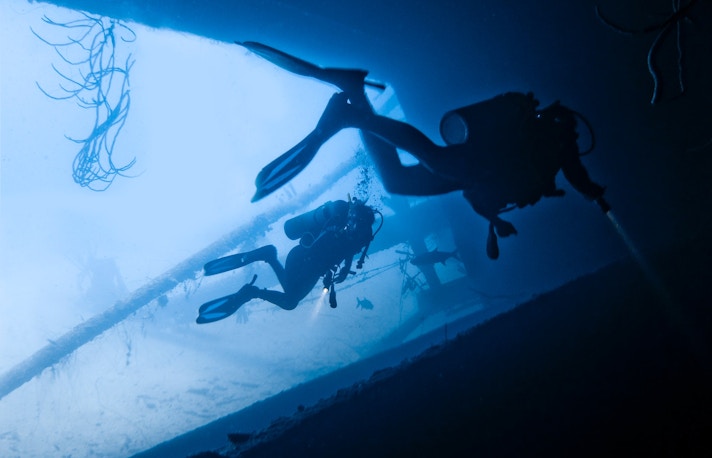 Shipwreck
A zone that replicates the interiors of a ship with stuff scattered all over and surrounded by unique marine species like the red lionfish. Do check out the Coral Walk out here that will provide you with insight into  all about coral reefs around the country.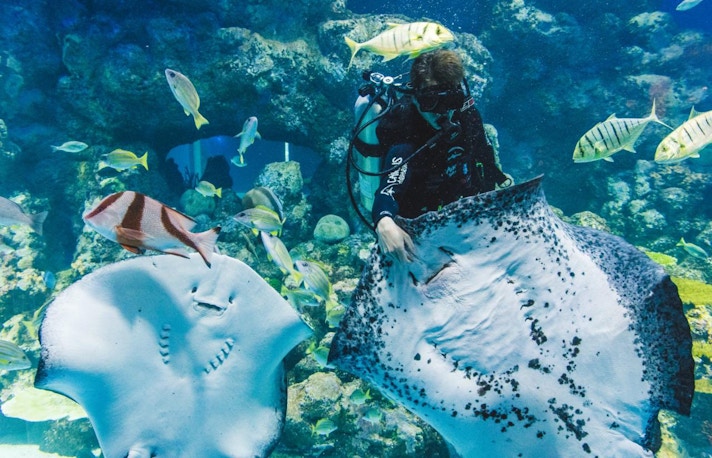 Deep Forest
A cylindrically shaped tube that comprises a collection of fishes and giant stingrays. Enjoy feeding shows in this zone at 5:30 pm daily.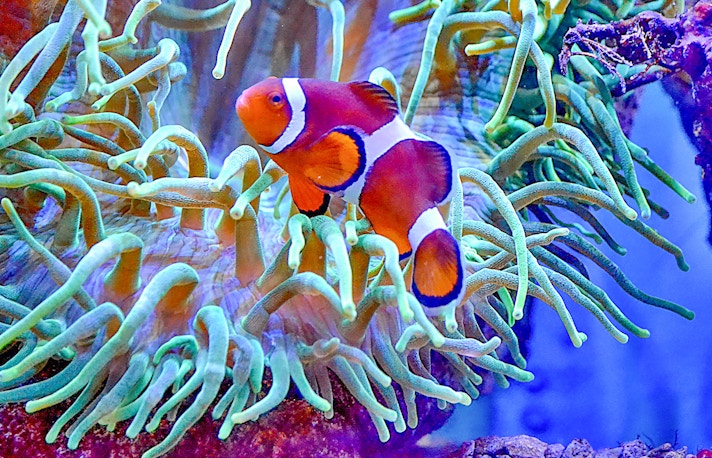 The Coastal
This zone consists of only two amazing marine species – Archerfish and the Mudskipper. In comparison to the other zones, this one is slightly smaller but is mesmerizing.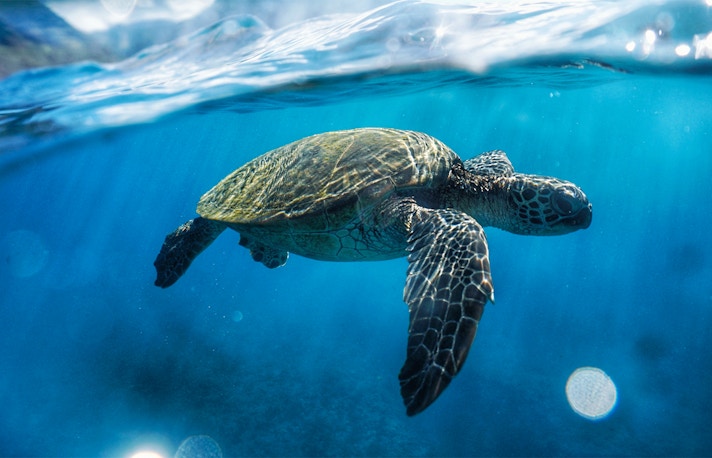 Living Ocean
An astounding exhibit with a 90-meter transparent tunnel that allows you to take an underwater stroll where you can be in awe of some of the captivating marine animals such as green sea turtles, tiger sharks, and many more. Weird and Wonderful
The exhibit is slightly small but the highlight is the Pinecone fish that resides here. The exhibit is displayed through neon lighting that adds to the look and feel of the creatures residing within.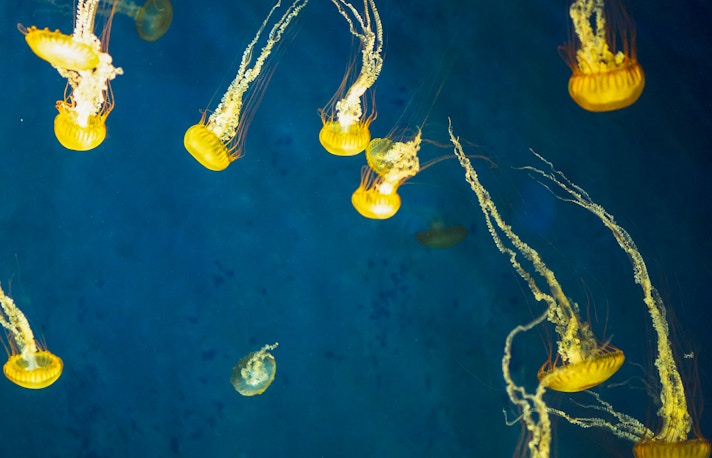 Station Aquarius
This is the last exhibit that is on display at Aquaria KLCC and consists of seahorses and jellyfishes that are a sight to sore eyes.
Things To Do
Wondering if you could interact with these wonderful sea creatures, then just observe them through a transparent window? Here is something more that you could do while you are at Aquaria KLCC. Take A Dip Through the Cage Rage
Have you always wanted to dive underwater? Then this is the ideal experience you should opt for. The Cage Rage provides you with a custom-made cage that will take you down where you can be face-to-face with some of the aquatic creatures at a safe distance.
Dive With Sharks
Dive into the oceanarium tank and discover 5 types of sharks. This is a great experience to do if you are a certified diver.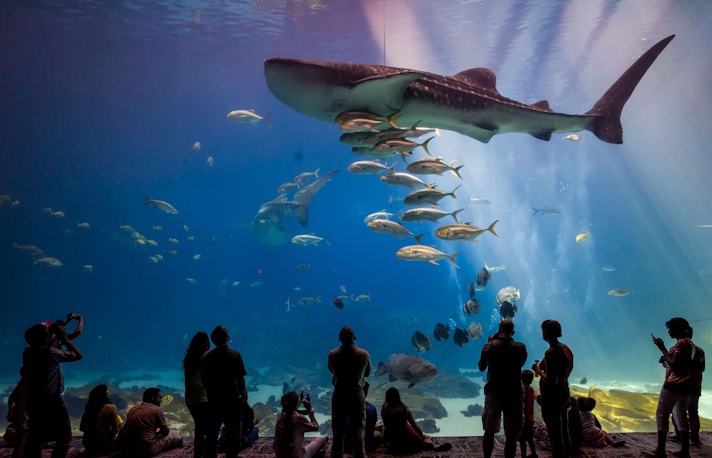 Sleep With Sharks
Here is a unique experience offered at Aquaria KLCC that allows your children between the age of 6-13 years to be a part of feeding sessions, discovery hunts, and many fun activities as they continue to spend the night with the sharks.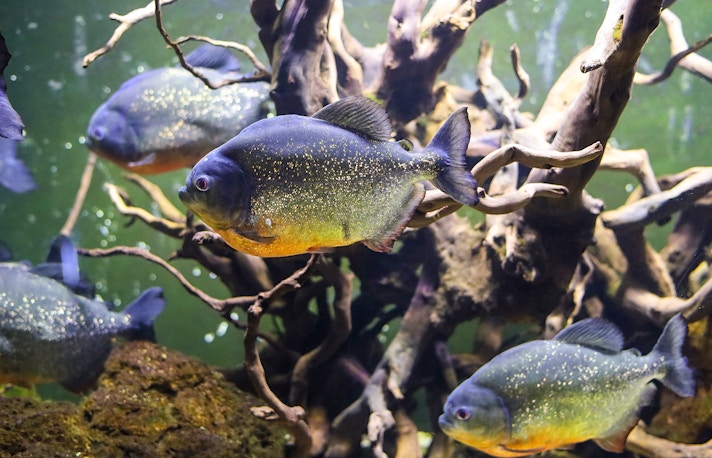 Discovery Hunt
A fun hunt where you will be prompted with a different clue in various exhibits, allowing you to learn about the habitat and behavior of these aquatic animals.
Where is KLCC Aquarium?
Address: Kuala Lumpur Convention Centre, Jalan Pinang, Kuala Lumpur City Centre, 50088 Kuala Lumpur, Wilayah Persekutuan Kuala Lumpur, Malaysia
KLCC Aquarium is situated beneath the Kuala Lumpur Convention Center in the walking vicinity of the wonderful KLCC Park and Petronas Towers region. Since the venue is underground, Aquaria does not have a flashy entrance at the lower level, hence making it difficult to spot.
Getting to Aquaria KLCC
Aquaria KLCC Opening Hours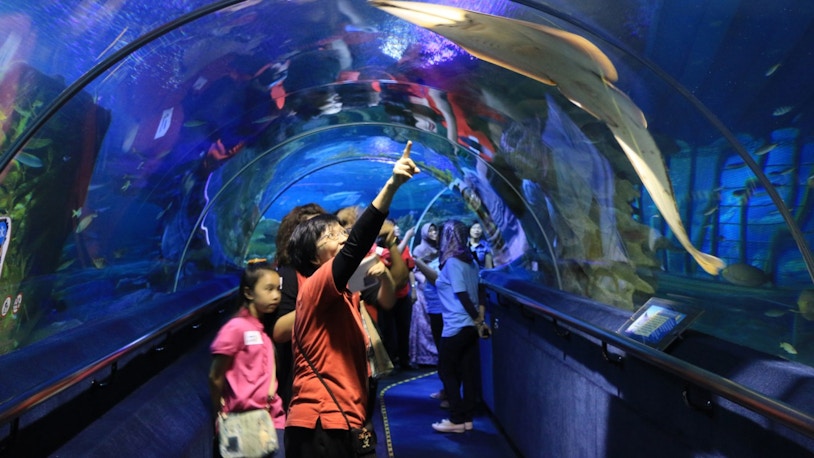 General Timings: The KLCC aquarium is open all days of the week, including public holidays from 10 AM to 7 PM.
Last Admission: The last admission into the attraction is at 6 PM.
Best Time to Visit: The best time to visit the attraction is between 10 AM and 2 PM.
Duration of Visit: We recommend spending between 2 to 3 hours at Aquaria KLCC.
Best Time to Visit Aquaria KLCC
Book Aquaria KLCC Tickets
Combo (Save 10%): Aquaria KLCC + Sunway Lagoon Tickets
More details
Combo (Save 44%) : KL Tower Sky Deck + Sky Box + Aquaria KLCC Tickets
More details
Aquaria KLCC Skip-the-Line Tickets + Petrosains Entry Tickets
More details
Frequently Asked Questions About Aquaria KLCC
Q. What is Aquaria KLCC famous for?
A. Aquaria KLCC has more than 5000 species of marine and terrestrial animals. They have an underwater tunnel and a Living Ocean that has more than 5 species of sharks and turtles.
Q. Where is Aquaria KLCC?
A. Aquaria KLCC is situated beneath the Kuala Lumpur Convention Center in the walking vicinity of the wonderful KLCC Park and Petronas Towers region.
Q. Why should I visit Aquaria KLCC?
A. Rather than just seeing marine animals through the other side of the glass, the place offers a lot of fun activities such as fish feeding sessions, Dive with sharks or Cage Rage where you can get up close to the most ferocious aquatic creatures.
Q. How do I book tickets to visit Aquaria KLCC?
A. You can book your Aquaria KLCC tickets online.
Q. How much does it cost to visit Aquaria KLCC?
A. An entrance ticket to Aquaria KLCC costs MYR 45.
Q. When did the Aquaria KLCC open?
A. Aquaria KLCC opened on 20 August 2005.
Q. What's inside Aquaria KLCC?
A. There are more than 5000 marine species and land-bounded animals in Aquaria KLCC, Kuala Lumpur.
Q. What are the Aquaria KLCC opening hours?
A. Aquaria KLCC is open daily from 10 AM to 7 PM.
Q. Is it worth visiting Aquaria KLCC?
A. Yes, it is absolutely worth visiting Aquaria KLCC if you wish to indulge in marine life and its habitat.